FOLLOW THE LINKS TO FIND THEM AT AMAZON.COM OR AT THE CREATE SPACE e-STORE:

FOUND ON BATHROOM WALLS by William James Lindberg is Penhead Press' third installment of the chapbook series.

What is it about remarks on bathroom walls – you can't not read them. They are not all gems of literature but sometimes, something will stick. Found on Bathroom Walls scribbles its wisdom in our psyche, lets us savor each phrase, each sound created by words found and folded in together on the page. William is a true poet, a person who finds beauty in words everywhere and can present them to us like a plate of the finest caviar with all the trimmings. A teardrop in time turns into a poem about his father, moving home turns into an epic worthy of Charlton Heston.

—Description by Carla Blaschka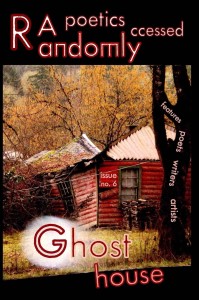 RAPoetics Issue 6, Ghost House,contains poetry, prose, photography, and art from Carrie Albert, Pratima Annapurna Balabhadrapathruni, Robert Bates, Matthew Lane Brouwer, John Burgess, Dennis Caswell, Joanna Conom, Larry Crist, Holly Day, J.D. DeHart, Pattie Flint, Steve de France, Tammy Gordon, Ira Joel Haber, Christopher J. Jarmick, Erin J. Jones, Staci Leigh, P.A. Levy, William James, Michael Mark, Bozena Helena Mazur-Nowak, John McKernan, Levi J. Mericle, B.Z. Niditch, Frank C. Praeger, Heather Parker, Shiloka Shankar, and Guinotte Wise.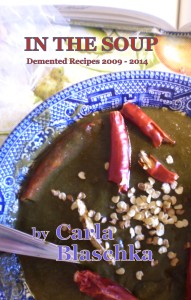 IN THE SOUP: DEMENTED RECIPES FROM 2009 – 2014 by Carla Blaschka is Penhead Press' second installment of the chapbook series.

In the Soup is a collection of delightfully short short stories spiced at times with a soupçon of horror. If you like unexpected endings, you will adore these little gems, Each is tightly packed with meaning and should be savored, one story at a time. Better still are the leftovers. Like a good pot of stew left overnight, there is new meaning and flavor to be found each time you dip into it again. Bon Appétit.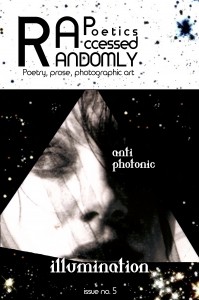 RAPoetics Issue 5, Anti Photonic Illumination, displays work from Don Comfort, Bryan Edenfield, Christopher DeFeyter, Jim Ferguson, Pattie Flint, Margaret Elysia Garcia, Sarah Gawricki, Howie Good, John Grey, Ira Joel Haber, Christopher Wolfe, A.J. Huffman, Palash Kapoor, William James Lindberg, Staci Leigh, Bill Marles, Dave Mehler, Jesse Minkert, Taylor Napolsky, B.Z. Niditch, Richard Pinner, Thomas M. Ring, Ebi Robert, Rachel Rosenberg, April Salzano, Raul Sanchez, Weldon H. Sandusky, Samy Sfoggia, David Christopher la Terre, and Tamara Wyndham. Further, it features on the cover an artistic rendering of Sarah Gawricki's image.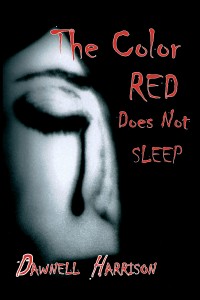 The Color Red Does Not Sleep by Dawnell Harrison is the first installment of Penhead Press's single author chapbook series. The cover art and interior art was created by Dion Loubser.

THE COLOUR RED DOES NOT SLEEP (a brief description by Dion Loubser), it burns. The colour red smoulders and glows, sparks and throbs. The colour red is passion and anger and lust, pain and victory, sunset and fire. Dawnell Harrison presents us with a journey into the heart of a colour that represents our hottest emotions, a colour that reflects the duality of our nature. Other colours may calm and soothe, cool when things get too hot. But red! Red is the planet Mars, named for the God of War! Red is rage, the pumping of blood…yet red is also the colour of love, the glow of red wine; red is sensual, red is sexy. The poetry here will take you on this journey, and like the colour red, it does not hold back. This poetry shoots straight at the heart, as bold and real as the colour red itself.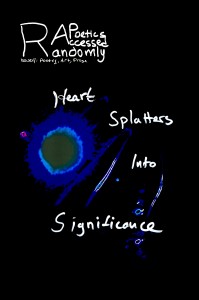 RAPoetics Issue 4, Heart Splatters into Significance, contains compositions by contains works from Carla Blaschka, Jim Boggs, Greg Brisendine, Christine Clarke, Alfonso Colasuonno, Tim Cole, Larry Crist, Jim Davis, Doug Draime, Elizabeth Fountain, Jeannine Hall Gailey, Sarah Gawricki, Jack Haines, William Wright Harris, Dawnell Harrison, Christopher J. Jarmick, Duane Kirby Jensen, Annette Kluth, Craig Kurtz, Scott Laudati, Charley McAteer, Tera McIntosh, John McKernan, Sharon Meixsell, Dan Nielsen, B.Z. Niditch, Rafael Ayala Paez, Brandon Pitts, Raúl Sánchez, M. A. Schaffner, Carol Smallwood, Morris Stegosaus, Kurt Swalander, Andy Wilson, PurpleMark Wirth.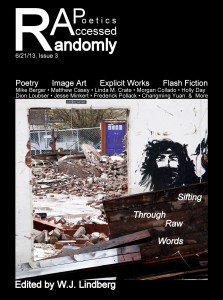 RAPoetics Issue 3, Sifting Through Raw Words, contains compositions by: C. Albert, Daniel Beaudoin, Mike Berger, Tim W. Boiteau, Matthew Casey, Allie Coker-Schwimmer, Tim Cole, Morgan Collado, Linda M. Crate, Holly Day, Alex Damov, Nate Depke, Colin Dodds, Doug Draime, Jason Constantine Ford, Elizabeth Fountain, Paige Edenfield, Jack Haines, Matthew P. Haubert, A.J. Huffman, John Kaniecki, Derrick Keeton, Craig Kurtz, Mirri Lane, Dion Loubser, Magen Mackay, Suvi Mahonen, David McLean, Susan P. McNally, Jesse Minkert, Giorgio Montanari, Frederick Pollack, Sy Roth, April Salzano, M. A. Schaffner, Samantha Seto, Imani Sims, Kurt Studenroth, D.C. la Terre, Emily Thomas, Veronica Valeanu, Jeffrey Williams, and Changming Yuan.
RAPoetics Issue 2, Paint Darkness Into Day, contains compositions by Kyrsten Bean (photo art & poetry), Mike Berger, Bud R. Berkich, Carla Blaschka, Matthew Brouwer, Kelvin Bueckert, Colin W. Campbell, Valentina Cano, Kanchan Chatterjee, Morgan Collado, Virginie Colline, Don Comfort, Alexander Dang, J.D. DeHart, Sarah Edwards (photo art), Neil Ellman, Kirk Erickson, Denise Falcone, John Grey, Carly Grove, Jack Haines, Dawnell Harrison, Kyle Hemmings, William James (Collage), Duane Kirby Jensen, Eli J. Joula, Keith Kennedy, Kenneth Kesner, Rusty Kjarvik, Craig Kurtz, Scott Laudati, Lianne Juliet Lester (Comic Illustration), Kim Logue (Collage & Poetry), Dion Loubser, Carrie Malarkey (photo art & poetry), Peter Marra, George Marrow, Savamma Maue, Joan McNerney, Sharon Meixsell, Laura Minning, Arian Moharari, Afzal Moolla, Ben Nardolilli, B.Z. Niditch, Stanley Morris Noah, Timothy Ogen, Heather Parker (photo art), Frederick Pollack, Kaleem Raja, Nathaniel S. Rounds, Fabio Sassi (photo art), Andrew J. Stone, Emily Strauss, D.C. la Terre, Shawnell Tolliver, K.C. Wilder, Purple Mark, Changming Yuan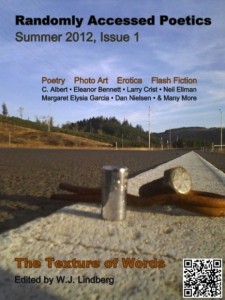 RAPoetics Issue 1, Texture of Words, contains compositions by Gale Acuff, C. Albert, April Avalon, Patricia Babbitt, Shannon Barber, Eleanor Bennett, Philip V Bernier-Smith, Carla Blaschka, Bruce V Bracken, Randi Carlton, Sweet Cheeks, Louie Crew, Larry Crist, Aaron Dietz, Neil Ellman, Denise Falcone, Robert Lee Frazier, George Freek, Elizabeth Fountain, Margaret Elysia Garcia, Howie Good, Juleigh Howard-Hobson, William James, Terence Kuch, Duane Locke, Jan Marquart, Tera McIntosh, Joan McNerney, A.R. Minhas, Michael Neal Morris, B.Z. Niditch, Dan Nielsen, Felino A Soriano, Guy Swanson, Jessica Tyner, Thomas Zimmerman.