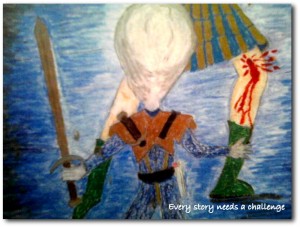 In every great story, the principal characters face a series of challenges in order to be recognized as a heroine or hero. Penhead Press has a few challenges too: Sestina, Two Lines, or 111 Words of Anything Goes.
Writing challenges are a great way to get the ink flowing if you have a blockage in your pen or if you want to get out of a rut. Accepted challenge submissions will post on random days.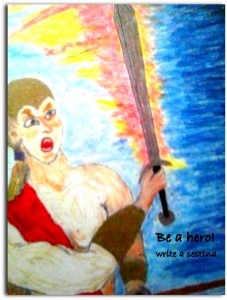 Sestinas are my favorite form poems. They are an excellent exercise, because they challenge the writer to think and be creative. If you haven't written a sestina before, I susgest you give it a go. They can be fun to write especially if you allow yourself to be silly. For help with the form, refer to this (random page) on "How to Write a Sestina."
Extra kudos to you if you can write a Sestina using these six end words:
live, private, esteme, peel, reveal, anus

or

depart, howl, tattoo, rubber, memory, ascend

.
Challenge words will periodically change and past words (and lines) will be archived.
If you find the Sestina too daunting of an adversary, give the Pantoum, Triolet, and/or the Villanelle a go. The challenge is to incorporate into your narrative the following set of prompt lines. As with six words, the two lines will also change periodically.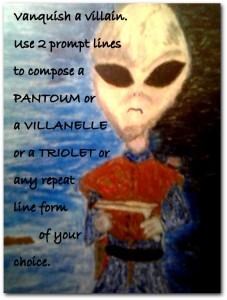 "…years later the pile is quite high…"

"…I sit here and grieve for the person I want to be," Carla Blaschka.
If those lines from a
CARLA BLASCHKA
gives you a dry mouth, try these two lines from a RAPoetics Issue 4 & 5 contributor,
Raul Sanchez
instead:
I can still smell her cigarette

that last note ended in a lawnmower symphone
The final challenge, should you be not amenable to penning form poems, is 111 words of anything goes. There are no rules for 111 words of prose. In fact, you could even write a free verse poem. You may use the six words and/or the two lines to prompt your creativity into action. Remember, as with most writing exercises, you don't have to use the words exactly, you can use the emotive quality or the image(s) invoked by the sound or definition of the word.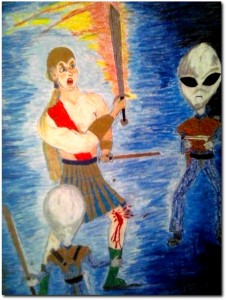 Multiple subs for six words, two lines, and 111 words of anything goes are for the present time encouraged.
Please send your writing challenge submission to:

william_lindberg@hotmail.com

Please put WRITING CHALLENGE in the subject header. Thanks!
Have fun. Write it now. Be fast. Slash. Jab. Parry. Go for the kill….
William James Lindberg